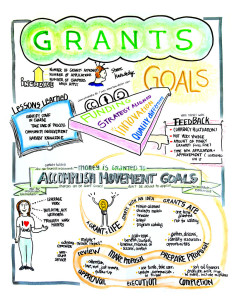 With experience as both a grantor and a grantee, Creativ.ly E brings experience to the entire grants process.
Preparing, executing, and reporting grants goes beyond knowing the funders stated requirements.
Issues of accountability, capacity,  evaluation, re-granting,  and  reporting requirements can be lurking around the corner. This is especially true for the non-profit or arts organization newly navigating their way through the grant process.
Very few grants processes look the same. Issues can include,  underestimating resources, asking for too little or too much, or not adequately tracking the project for final reporting. Considering these issues, and others, at the beginning of the process can dramatically reduce time and cost later on in the project.
Getting the Grant
Write a good proposal, and you're good to go – right? Maybe not. A good proposal is key to getting the grant, or to the next stage of the process. But what is a good proposal? What should you keep in mind when organizing and writing your proposal? How much supporting material should you include? In what format?
Your knowledge of the funder is almost as critical as the proposal. Do you have a pre-existing relationship? How much info do you have about the organization? Do you know anyone who has received funding from them before?
Understanding the funder's priorities, both explicit and implicit, are critical to a successful proposal.
Is This the Right Grant?
The importance of this question cannot be overstated, for this reason: not all grants are right for all projects.
Just because there is money available, doesn't mean it's worth it. There are many questions all organizations should ask before embarking on the application process. Here are a couple of important ones to consider.
Which came first – the grant, or the idea?
If your answer is the grant, it's time to reconsider. If you've had an idea that is on the back-burner just waiting for funding, great. Otherwise, developing a project concept in order to apply for a grant is rarely successful.
Will you spend more resources executing the grant than it's worth?
Adequately assess how much time and money you will expend to execute the grant. Weigh it against what you will receive. You don't want to spend $20,000 above your planned budget to get $10,000. Sometimes, you should consider the non-monetary value of the grant. For example, receiving a small grant from the NEA may not be financially balanced, but the name recognition of the NEA may provide leverage for raising additional funds.
Grants can have tremendous value for a non-profit or arts organization, with the right context.
Creativ.ly E offers help for every step of the grants process. From initial assessment, budgets, designing and implementing evaluation and assessment, documentation, and writing proposals and reports, Creativ.ly E is ready to lend your team a hand.
Questions? Give us a shout – we'll figure it out together.
Creativ.ly E has worked on grants with community, government, and foundation funders. These include the Doris Duke Charitable Foundation, The Andrew W. Mellon Foundation, the NEA,  NC Civic Education Consortium, and The Mary Duke Biddle Foundation.